The Department of English launched a new student award this year, the Outstanding Senior Award, which recognizes graduating seniors who embody the mission and values of the department.
Sponsored by the Dianna S. Cavett Endowment for English Literature, nominations for the award were submitted by Department of English faculty, who were asked to speak to their nominee's demonstrated excellence in academics, co-curricular activities, experiential learning (internships, study abroad, and study away), student leadership, and their broader contributions to the Department of English community, especially those reflecting a commitment to diversity, equity, and inclusion.
The selection committee chose the following three students to receive this year's award:
Tessa MacDonald, Film Studies major, Fiction Film minor
Shane Heath, Film Studies major
Jacob Largen, English major, Film Studies minor
Each recipient received a $1,500 prize and a commemorative medal to wear during graduation ceremonies (and beyond).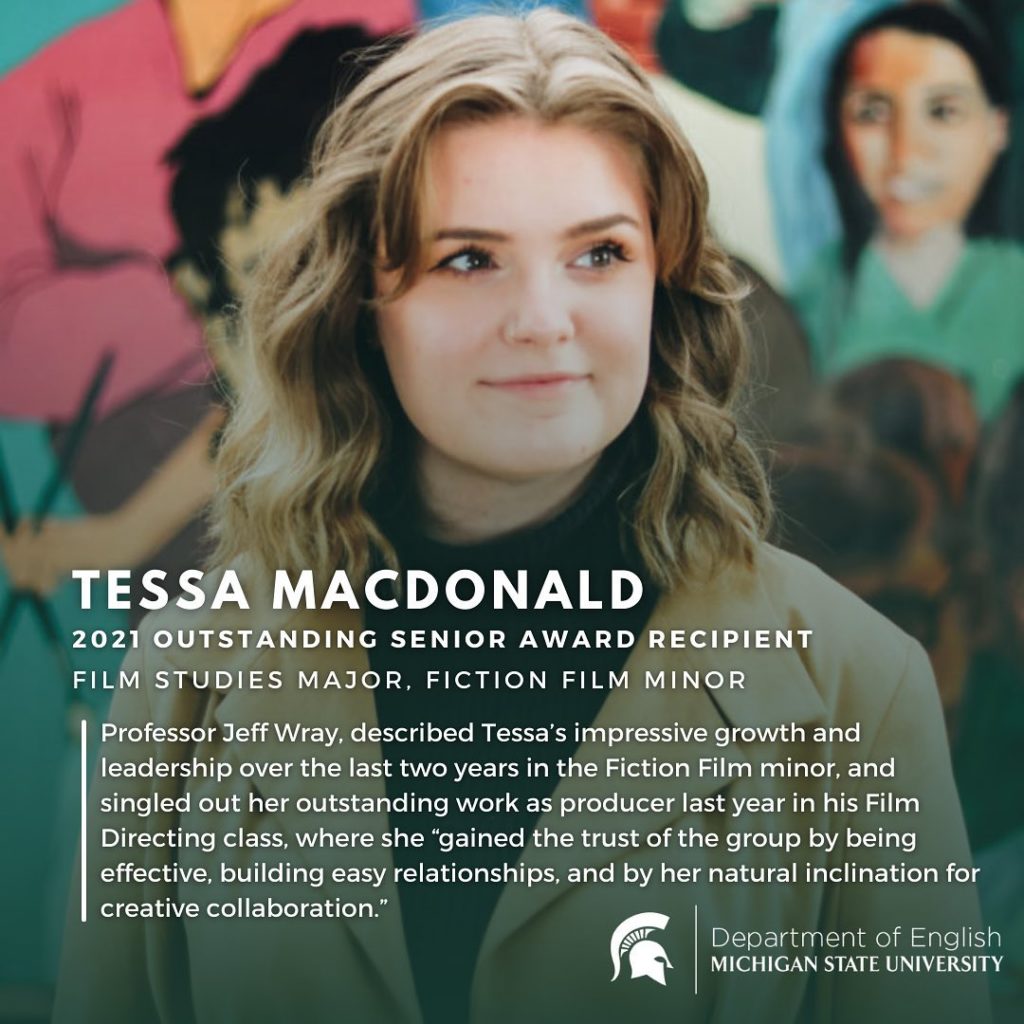 Tessa MacDonald
In addition to her outstanding classroom work, MacDonald recently interned with the Traverse City Film Festival and pursued study abroad at University College in Dublin, Ireland. Her faculty nominator, Professor Jeff Wray, described MacDonald's impressive growth and leadership over the last two years in the Fiction Film minor, and singled out her outstanding work as producer last year in his Film Directing class, where she "gained the trust of the group by being effective, building easy relationships, and by her natural inclination for creative collaboration."
This year, MacDonald was selected by her peers to be the lead producer in a yearlong independent film project for the Fiction Film capstone classes (FLM 435A and B). Noting the particular demands on film production during the pandemic, Wray hails MacDonald for her "creativity, organization, and collaboration" in serving as the "drum major for this stellar group" of students as they completed their 30-minute film Varnish, to premiere May 10.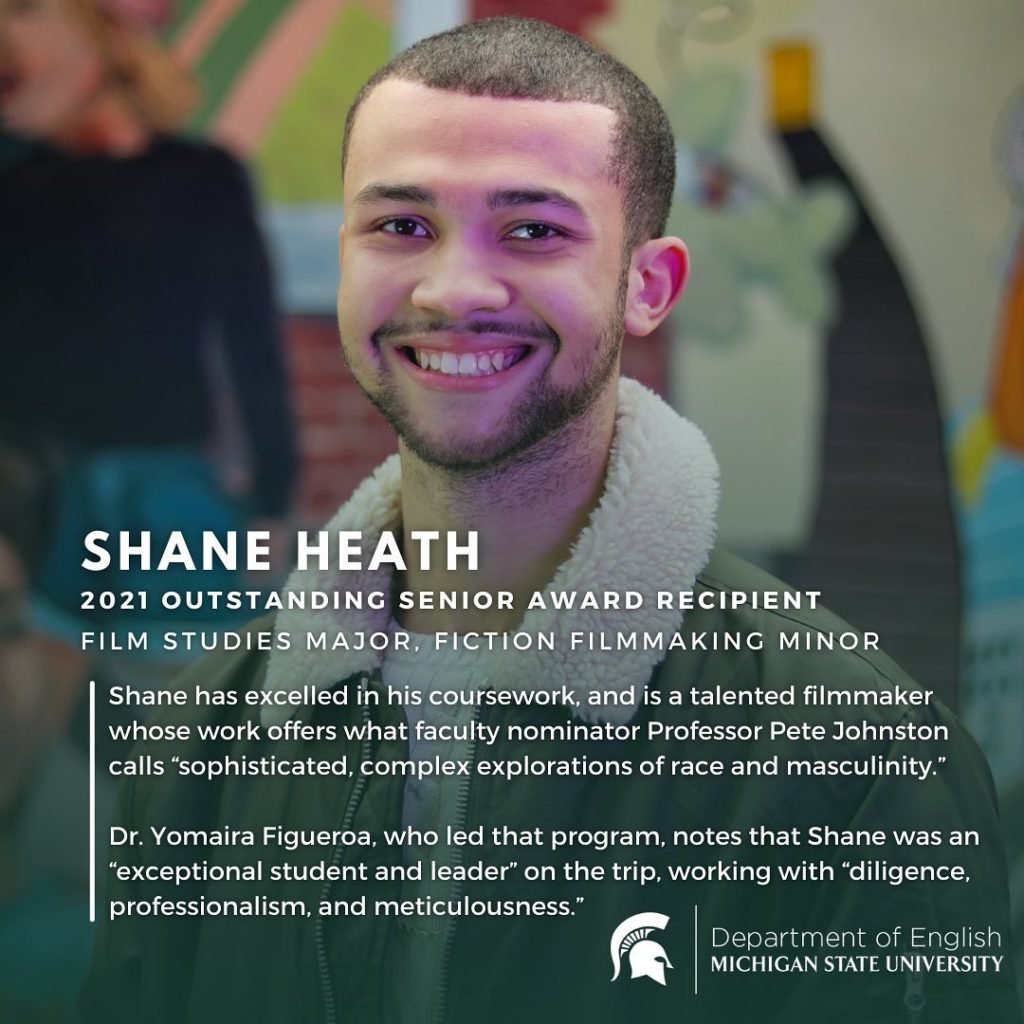 Shane Heath
Heath has excelled in his coursework and is a talented filmmaker whose work offers what faculty nominator Professor Pete Johnston calls "sophisticated, complex explorations of race and masculinity."
Heath was a "model participant" in the Los Angeles Study Away program in 2019 and has contributed to the department community through his work in the Film Lab, his participation in the Film Collective, and his film work documenting the 2020 Proyecto Palabras Spring Break Study Away in Puerto Rico. Associate Professor Yomaira Figueroa, who led that program, notes that Heath was an "exceptional student and leader" on the trip, working with "diligence, professionalism, and meticulousness."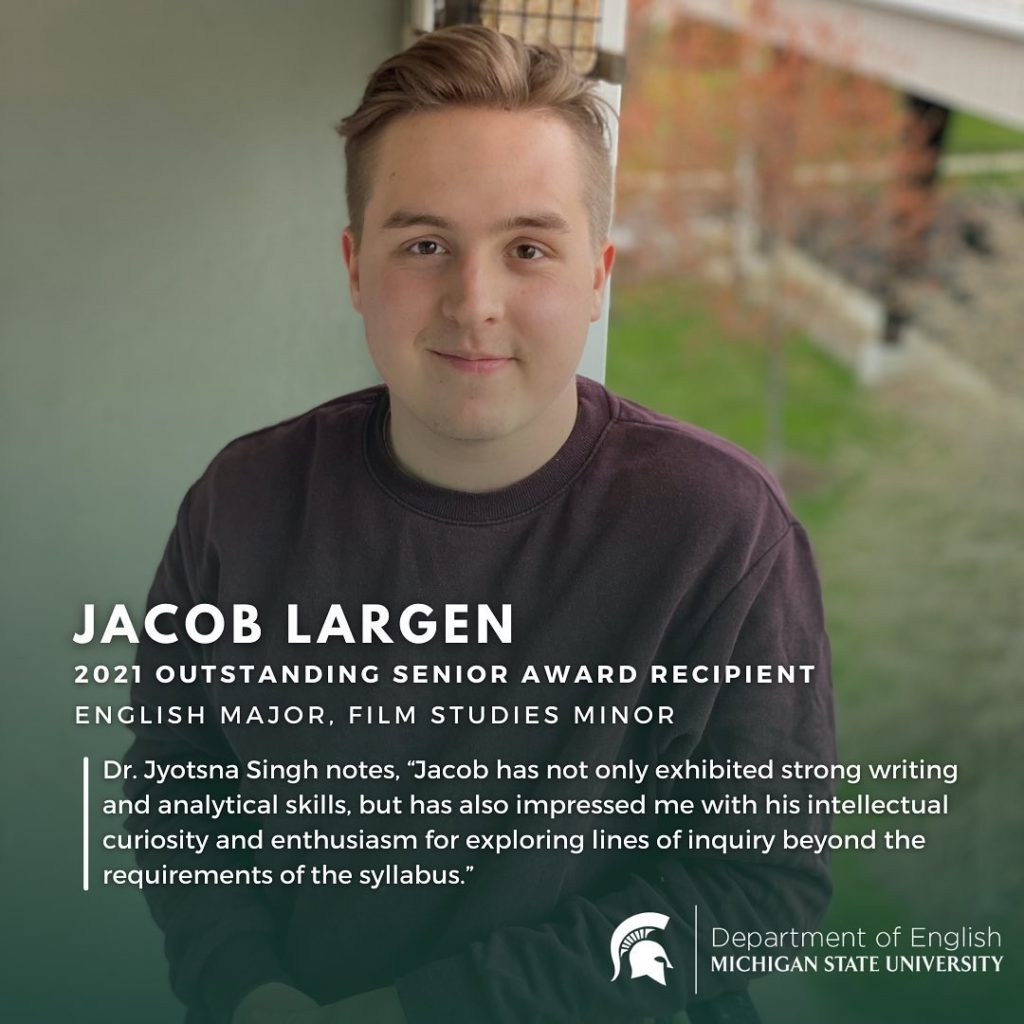 Jacob Largen
Largen was the managing editor of Red Cedar Review, the longest-running undergraduate-managed publication in the United States. Faculty nominator Professor Jyotsna Singh, who had Largen in her senior capstone course, lauded his final project for ENG 368, titled Chapbook: A Life in Six Poems, consisting of a suite of poems that mirror life, which allowed Largen to "synthesize thematic concerns of the course with a reflective poetic vision that was quite remarkable."
"Jacob has not only exhibited strong writing and analytical skills but has also impressed me with his intellectual curiosity and enthusiasm for exploring lines of inquiry beyond the requirements of the syllabus," Singh said.
Largen also recently concluded an ambitious final paper for Singh's capstone seminar on the colonial contexts of The Tempest.